Food and drink manufacturing returns to growth in May
13 July 2022
The UK economy has defied market forecasts and grew by 0.5% in May, following contractions in the previous two months. Every area of the economy expanded including services, production and construction.
Topics
Monthly GDP, Index, 2019 = 100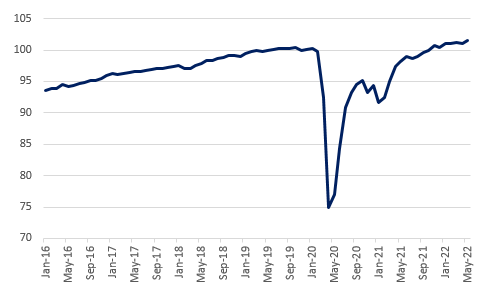 Source: ONS
12 out of the 13 manufacturing sectors grew in May, with the industry expanding by 1.4%, up from a fall of 1.0% in April. The food and drink sector also returned to growth, having the third largest contribution to manufacturing growth.
While the rebound is welcome, today's figures also point to a slowdown in consumer spend. With inflation starting to bite – eroding real incomes and hiting discretionary spending – it's not surprising that wholesale and retail as well as the hospitality sectors shrank in May.
The BRC-KPMG June retail data show consumers trading down to cheaper brands in food and non-food alike and a big hit to non-essentials, as households are either cash-constrained or attempting to preserve their savings.

Moreover, the mood in the economy is strikingly pessimistic. The GfK consumer confidence saw a new record low in June, the second consecutive month. With prices rising at the highest pace in 40 years and extremely high uncertainty about future rises in energy prices, consumer confidence measures show that households are more worried now than they were in the beginning of the pandemic or during the 2008 crisis.

And it's not just consumer demand that is weakening. June's S&P Purchasing Managers' Index data for manufacturing showed new orders intake fell for the first time since January 2021, while new export orders contracted for a fifth consecutive month. This suggests manufacturing output growth will slow down in months to come, with a real possibility of it going into negative territory.

All of the above will help with taming inflation, but will also fuel recession fears.

The Bank of England is likely to hike interest rates for a sixth consecutive time at the August's policy meeting, and today's growth figures might have provided ammunition for a potential raise in excess of 0.25 percentage points, the rise of the last increases.

The short-term outlook is not encouraging. Fears of a global recession brought down oil prices, and global food prices have also seen some modest declines over the past two months. However, most commodities are significantly more costly than they were in February of this year and the tight labour market supports wage growth. This means that it will take a while for inflation to be brought under control.

For food and drink manufacturers, this means they will be confronted for a while with higher input costs. Moreover, our sector is energy-intensive, therefore disproportionately impacted by the rise in energy prices. This will hurt long term growth and investment, as manufacturers absorb a significant part of cost increases.

There are a number of things the UK government can do to ease some of the pressures on businesses and shoppers, including looking once again at VAT reductions on food and drink. They can also act to reduce the cost of regulation, for example, by suspending the plastics packaging tax, which is not working because of deficiencies in the UK's recycling system but is nonetheless pushing up prices for consumers.

Ministers could also make the apprenticeship levy more flexible so all sizes of businesses can use it effectively. And the UK Government and the Devolved Administrations must work constructively together to ensure that regulation of our sector does not diverge across the UK's nations, again causing higher food and drink costs for households, as it looks likely to do on the different bottle deposit return schemes currently being devised.