Food inflation soars towards 10%
20 July 2022
Food and drink inflation picked up pace yet again in June, for the eleventh month in a row, with prices rising by 9.8% compared to a year ago, up from 8.7% in May. This is the highest increase since March 2009.
Topics
UK inflation accelerated to 9.4% in June, up from 9.1% in May, with fuel and food pushing up prices the most. More foodstuffs saw double-digit rises in June, such as low-fat milk (26.3%), butter (21.5%), flours (19.3%), ready-made meals (16.7%), lamb (14.9%), fish (14.2%), and coffee (13.2%).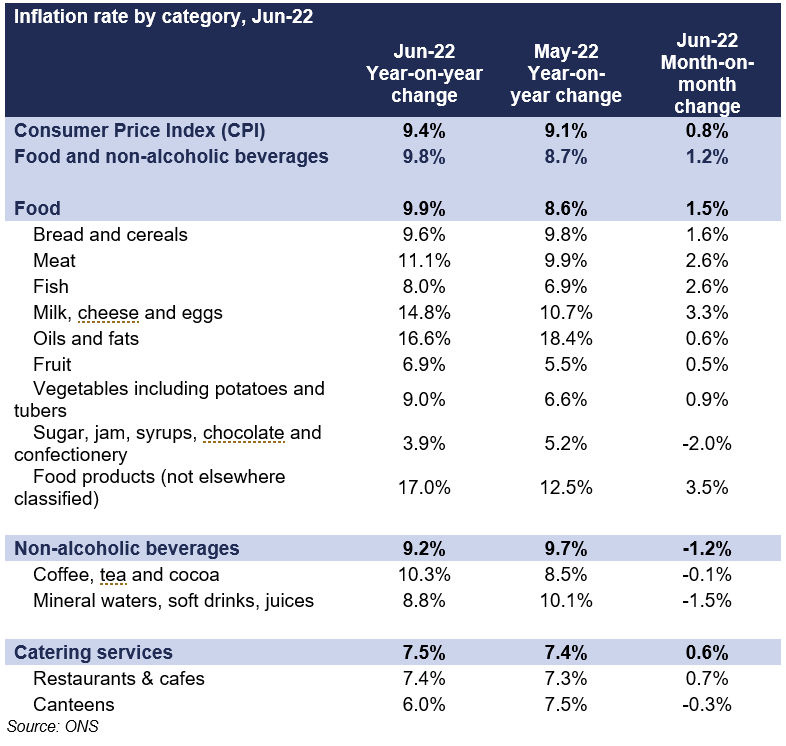 At the same time, producer costs continued their upward race. Food and drink manufacturers faced higher prices for the ingredients they bought: food ingredients produced in the UK were 14.3% more expensive in June on the year (up from 10.5% in May) and imported ingredients saw prices higher by 23.2% (up from 21.4% in May). Goods leaving the food and drink manufacturers' facilities saw inflation speeding to 12.2% (up from 10.5% in May).
As it takes up to a year for rises in producer costs to filter through to prices on the shelves, food inflation will continue well into 2023.
The big question now is for how long and to what extent producer costs will continue to increase. The heightened geopolitical uncertainty and the unpredictable weather patterns means it's not possible to forecast with a degree of certainty potential outcomes. It's uncertain for how long the war in Ukraine will continue, whether Europe will have enough gas supplies for the winter, if Ukraine will be able to bring their grains to the global market and how crops around the world will be impacted by the weather. Moreover, as fertiliser is a by-product of gas production, gas and fertiliser prices are interlinked. The longer gas prices remain high, the more prolonged the adverse impact on future crops due to low fertiliser use.
Prices for some key globally traded commodities have seen declines from the record highs seen in earlier this year. The global UN food index dropped by 2.3% in June from May, however it remains 9.3% above its February 2022 level and 47.3% above its October 2020 level (see below table). Fears of a global recession, triggered by inflation impacts or Chinese Covid policy, have put downward pressures on oil prices as well.

And while this may have provided some respite for food and drink, the sterling depreciation is undoing those gains. As those commodities are traded on the global markets in dollars, a weaker pound means it takes more pennies to buy the same quantity of foreign goods. The pound has been weaking against the dollar since the beginning of the year, shedding over 10% in its value since January, to plummet in July to its lowest since March 2020.
Effectively, imported goods priced in dollars are now 10% more expensive. As not much is likely to change in the global or UK outlook, the pound will likely remain weak relative to the dollar.
All of this leaves the food and drink manufacturers in a tight spot. Faced with immense, unyielding cost pressures and labour shortages and unable to pass on the majority of cost rises, their resilience is running thin.
At the same time, incomes are getting squeezed by the day. In May, UK households were 2.8% poorer, as inflation outpaced pay growth. As a result, they are changing their purchasing behaviours. An ONS survey run at the end of June found that half of households reported buying less food when food shopping, 62% spent less on non-essentials and 46% cut back on non-essential car journeys.
While inflation is driven by disruption in the global economy, the UK government can do more to support households and business through the cost of living crisis. Our industry needs a coherent plan from the new Prime Minister that creates the conditions for investment to boost productivity and competitiveness. These include incentivising business investment through reformed tax reliefs, incentivising skills training, reforming burdensome regulation and red tape, and promoting growth in new markets through exports.