Food inflation the biggest contributor to the change in May's inflation
22 June 2022
Food and non-alcoholic drink prices rose at an accelerated pace for the tenth consecutive month in May, with year-on-year inflation hitting 8.7%, up from 6.7% in April. This is the highest rate of inflation since March 2009. Food inflation was the biggest contributor to the change in headline inflation that inched up to 9.1% in May from 9.0% in April.
Topics
Many goods saw prices rising at double-digit rates, such as margarine and other vegetable fats (26.0%), low-fat milk (19.4%), pasta and couscous (16.1%), poultry (13.5%) or eggs (12.6%).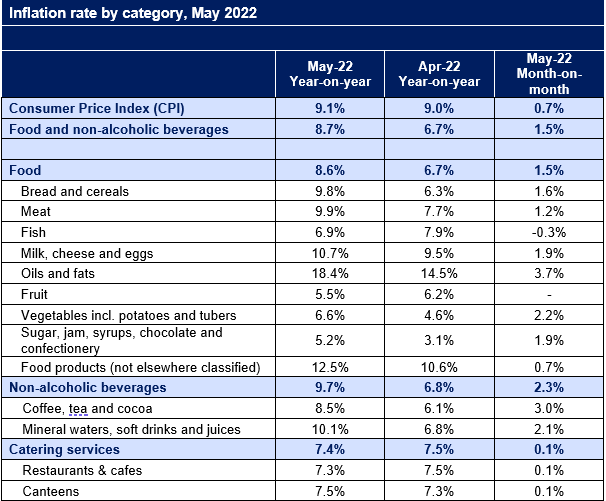 It takes between 7 and 12 months for production costs to filter through to consumer prices. Consumer food prices started rising in July 2021, however input costs of domestic and imported ingredients started increasing in August 2020, almost a year before consumer prices.
This means that we are in the midst of an inflationary cycle, with pandemic-related cost increases still yet to fully filter through into consumer prices. The grim reality is that costs continue to rise relentlessly.
Food products provided the biggest contribution to producer price inflation in May, with food ingredients produced in the UK 10.3% more expensive than a year ago (up from 9.6% in April) and imported ingredients 20.5% more expensive (up from 15.7% in April). Factory gate food and drink inflation accelerated to 10.4% (up from 8.7% in April).
In the wider context, in May, prices for some key globally traded commodities are down on levels seen in April. This may offer some respite for businesses buying off the spot market, however year-on-year rises remain very high. Most UK fertiliser prices are down in May compared to April (but prices remain 120% up compared to last year). The global UN food index dropped by 0.6% from April, however it remains 22.8% above the May 2021 level, while crude oil prices appear to have stabilised.
However, it would be premature to cheer these dynamics as an end to price rises. Market volatility remains high, with the war in Ukraine continuing and little clarity about the availability of certain key crops in the autumn or the state of European gas markets. We share the IGD's concerns about continued price rises facing food and drink in the months ahead and expect food price inflation levels to remain high during 2023.
Manufacturers are facing significant labour shortages, pushing wages up and this means virtually all cost components are rising significantly. However, manufacturers are doing everything they can to keep rises in consumer prices at bay, absorbing cost increases where feasible and utilising forward buying and hedging options. Many of the cost pressures are global in nature, affecting producers right across Europe, however UK's food inflation rates are lower than elsewhere in Europe.
Food inflation in the UK and the EU, April 2022, year-on-year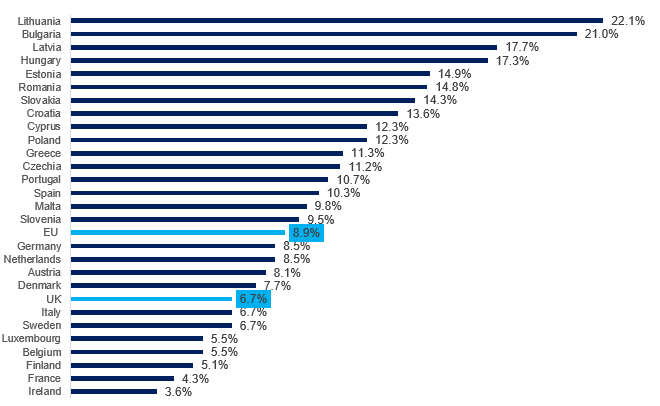 Source: ONS and Eurostat
Moving forward in these tough times, it is vital that the Government works with the industry to help ease pressures facing businesses and shoppers, including looking at VAT reductions on standard rated food and drink, as they did during the 2008/9 food price crisis. They can also reduce the cost of regulation, for example by suspending the Plastics Packaging Tax, which is not working because of deficiencies in the UK's recycling system but is pushing up prices for consumers. The Government should also consider making the apprenticeship levy more flexible to ensure businesses of all sizes can use it effectively.