There is so much opportunity in food and drink in Scotland.
Opportunities for people of all ages to find great careers and green jobs.
Opportunities for employers to use workforce development to power up their businesses.
And opportunities for educators to link to one of Scotland's most important economic sectors.
Our careers, skills and workforce development resources can help you explore your own opportunities in food and drink, whether you're looking for a career, for tools to develop your people or for curriculum support.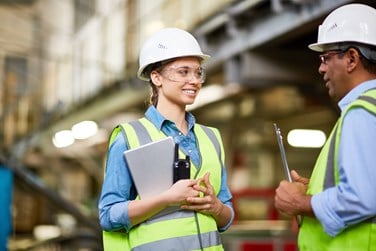 The career opportunities in food and drink are probably wider than you think. In fact, whatever your stage in education or life post-education, there is almost certainly a career for you.
Nowadays, every employer needs to think about how best to recruit, retain and develop staff. Our workforce development resources and links can set you on your way.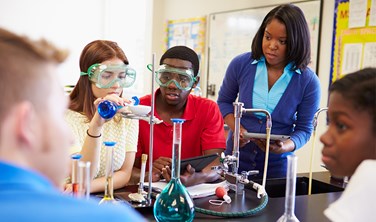 We have a range of resources about food and drink careers, as well as teaching aids relevant for STEM, business and other subjects.
Latest updates
STEM Ambassador programme
Update
We are proud supporters of the STEM Ambassadors programme. Hosted by STEM Learning, this initiative connects professionals working in STEM industries, at any stage of their career, with education and community groups to inspire and support young people.
For many businesses engaging with their local schools and community is a great way of raising awareness of what they do and engaging with the workforce of the future. Becoming a Scottish Food and Drink Ambassador can equip you and your staff with the skills and training required to promote careers in food and drink. Its a straightforward process and as well as promoting the industry can also support workforce development.
Or if you are a student or individual passionate about promoting the industry you can also join up.
To find out more please have a look our recent webinar and sign up here
Tilda Street Food Challenge 2022
We are thrilled to announce that the Tilda Street Food Challenge 2022 is back!
FDF Scotland have once again teamed up with Tilda rice to challenge pupils from S1 to S3 to research, design and market a rice based street food dish, based on Tilda ambient rice.
What's involved?
Work independently or in groups of up to 3
Investigate what types of dishes might appeal to young people their age
Channel your inner chef (or NPD technologist) to design a new street food dish
Design a marketing campaign to accompany the product
Research the process of growing, harvesting and producing rice, and it's economic and health importance across the globe
Think how the dish can be made sustainable
Include nutritional information and highlight any allergens
Sounds like work, doesn't it? This challenge is designed to highlight multiple aspects of what's involved in getting a product from concept to plate and get students thinking about jobs in the food industry. Click here for more information about the challenge.
Entries to be submitted using the application form and sent to skills@fdfscotland.org.uk by 21st May 2022.
Young Talent Award - apply by 8 April!
FDF Scotland is proud to jointly sponsor the Young Talent Award with Skills Development Scotland at this year's Scotland Food & Drink Excellence Awards.
This high profile category recognises the achievements of young people and provides an excellent opportunity to demonstrate the value of investing in young people. Previous winners have reported an increase in business as a result of winning plus greater awareness of their brand and business as well as career development for the young person.
We would like to actively encourage eligible young people (between the ages of 16 and 26 on 8 September 2022) to enter and for their employers to support them. Apply by 8 April 2022

Jordan Russell from Aldomak, award winner 2019, said:
"I had never really thought about my role in the food and drink industry in terms of being a young person, but winning the award made me realise how important it is we are attracting young enthusiastic people to the sector.

"The food industry is so interesting, not just because it is food, but for what is overlooked in food manufacturing like innovation, technology, logistics and so much more. It can be very challenging – and I love that, as my days and weeks fly in and no day is the same."

The benefits of participating include:
✔️Increased business for companies employing the young person
✔️Increased awareness of the business as a result of winning the award
✔️Supports employee development
✔️Recognises the employer as an employer of choice
✔️Helps to promote the industry as a career destination of choice.
Reasons to work or upskill in food and drink
Careers in food and drink are careers that matter.
It's a sector worth billions to Scotland, where STEM and digital skills are increasingly important.
There are roles and progression opportunities locally, nationally and internationally, and it's a key sector in helping Scotland meet its Net Zero ambitions.
And in Scotland alone, the sector needs nearly 35,000 new recruits by 2031 to fill skills gaps.
Other reasons to work in food and drink in Scotland
A Future in Food
FDF Scotland and Skills Development Scotland work in partnership to support delivery of the skills ambitions of the industry on behalf of the Scotland Food & Drink Partnership.
Our skills initiative, A Future in Food, works with partners across Scotland to raise awareness of the career opportunities available in the Scottish food and drink industry. We help young people, educators, career influencers and parents understand these opportunities and the skills needed by employers.
The Scottish Government funds this work through the Scotland Food & Drink Partnership.
For more information please contact:
Tilda Street Food Challenge 2022
Tilda and FDF Scotland are challenging pupils to design a new rice-based street food dish that they would like to eat. It is open to all S1 – 3 and pupils across Scotland.
Read more
Related pages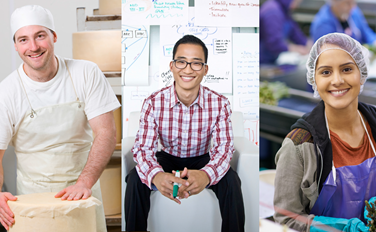 Our ambassadors inspire young people to consider a career in food and drink. If you work in food and drink and would like to help motivate the next generation of recruits into the industry you can sign up as a food and drink ambassador.