Sponsored by Tilda Foodservice in partnership with FDF Scotland and supporting Mary's Meals
What is it?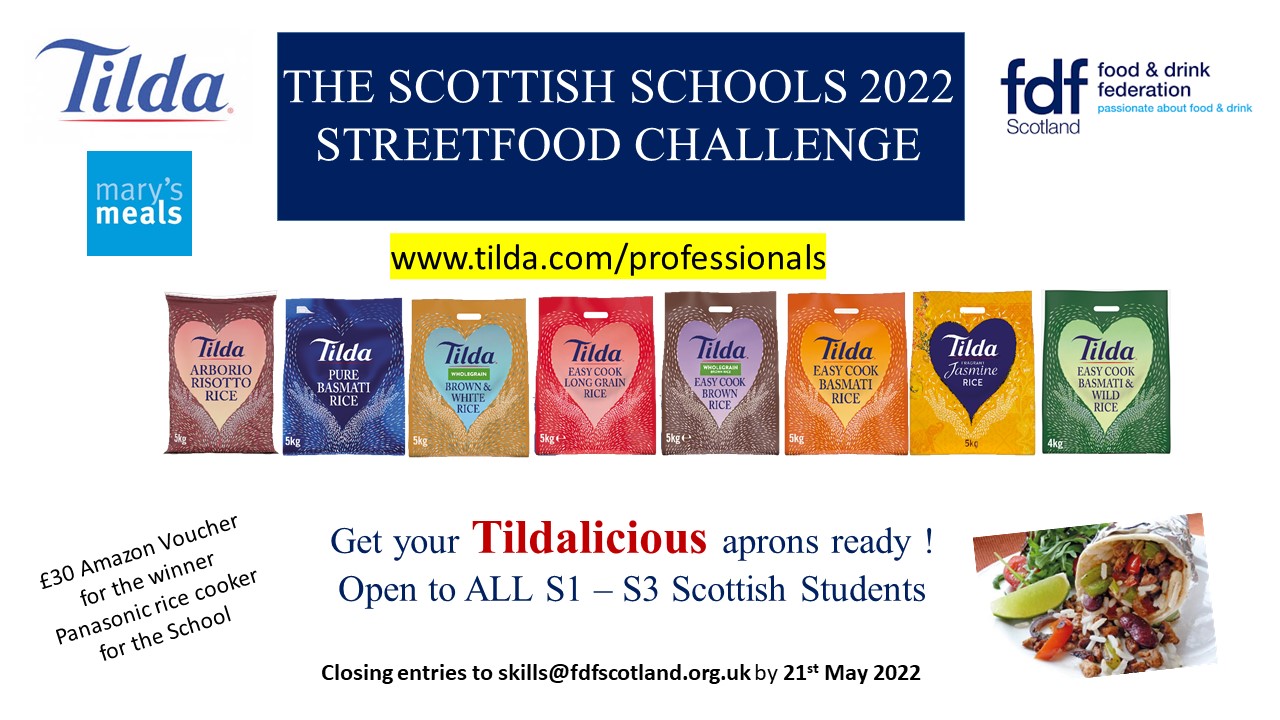 The Tilda Street Food Challenge is back for 2022! Tilda and FDF Scotland are challenging pupils to design a new rice-based street food dish that they would like to eat. It is open to all S1 – 3 and pupils across Scotland.
The challenge is designed to develop employability skills and an understanding of careers in food and drink that supports healthy eating, sustainability and social responsibility.
We do hope that the challenge can be delivered in schools in 2022 and we have developed the criteria to enable teachers to use this challenge to support curriculum delivery but we understand that the pupils may require additional support from parents/family.
Pupils should:
Work on their own or in small teams of no more than 3 to take inspiration from today's food trends influencing the dishes we eat. Think street food, small plates and plant-based cuisine.
Conduct their own research to investigate what street food young of their age like to eat.
Use their imagination and creativity to come up with a new street food dish that would really appeal to their target market using any one Tilda's ambient dry rice's as the base ingredient.
Design a marketing campaign to promote their product. We would also ask that as part of this process, pupils investigate where rice comes from, how it is processed, its economic importance to local economies and its health benefits.
Think about how their dish could be made sustainably and identify ways in which the product can reduce environmental impact and provide details as to how this could be achieved.
NOTE: the judges want to see original ideas and creativity. Any dishes that have been copied from the internet will be discounted from the competition.
To help understand new food trends pupils may wish to investigate further, some helpful sites can be found EIT Food Trends and Speciality Foods, although other sources may provide more information.
Entrants should also include nutritional information about their product and potential allergens, see Natashas Law.
What you have to do
Read the application form for more information, please complete and email to skills@fdfscotland.org.uk by 21 May 2022
Please note we request that applications are submitted in the Word document as supplied as we cannot guarantee that we can access other forms of entries
Shortlisted entries will be informed by 6 June 2022.
Judging will take place on an allocated day during week commencing 13 June 2022, dependent upon Scottish Government restrictions. If judges cannot visit in person arrangements will be made to hold a virtual judging process.
The Prizes
£30 Amazon vouchers for the winner (s) and a Panasonic rice cooker for their school and £15 Amazon vouchers for the runners up, plus other Tilda goodies.