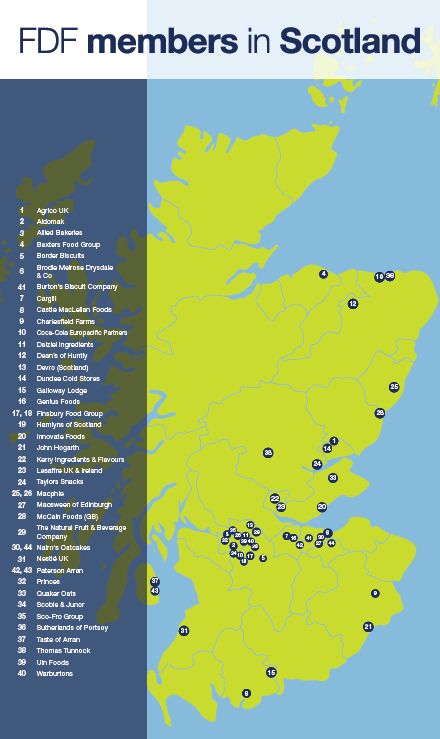 FDF Scotland is the voice of the UK's vibrant and resilient food and drink manufacturing industry in Scotland - with more than 1,000 members of all sizes across the UK.
The FDF was set up over 100 years ago. FDF Scotland - a division of the FDF – was established in 1999 to ensure our members views and concerns are heard by the Scottish Parliament, Scottish Government, other policy makers and the media.
We have successfully contributed to policy making and legislative development, championing our members' views – large and small – on the critical issues that are important to their businesses.
View FDF Scotland's consultation responses to find out more.
Partnership working is key to the future success of the Scottish food and drink industry. FDF Scotland is proud to be part of the Scotland Food & Drink partnership – a unique collaboration between industry organisations from across the food supply chain, Scottish Government and its agencies. We are proud to have been involved in the development of the the partnership's new ambitious 10-year strategy: 'Sustaining Scotland. Supplying the world'. We will be an integral part of its delivery. Our ambition is to make Scotland the best place in the world to own, operate, and work for a food and drink business.
FDF Scotland provides the Secretariat for the Scottish Parliament's Cross-Party Group on Food - a policy forum bringing together stakeholders from across the food chain to discuss the key food issues in Scotland.